"My go-to service for age spots, sun spots and skin tags. My clients love the results."
-Miranda Brannigan, LA, Owner,
resurface Skin & Body Health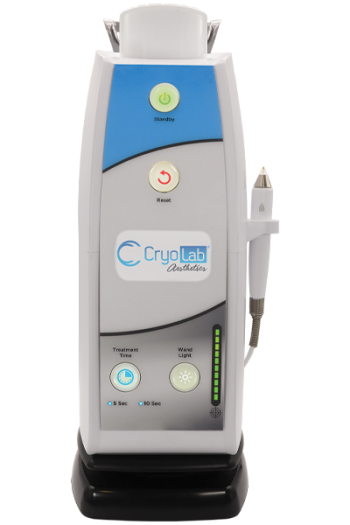 A REVOLUTIONARY NEW CRYOTHERAPY THAT WORKS
IN AS LITTLE AS ONE TREATMENT
LOWEST COST PER TREATMENT
CryoLab Aesthetics is a breakthrough for the treatment of skin conditions such as age spots, sun spots, and skin tags.

CryoLab's revolutionary design allows you to treat just a few or multiple spots with a low cost per treatment. No other portable cryotherapy comes close to the efficient use of gas making CryoLab the first cryo-based alternative to laser treatments.

The bottom line is that CryoLab will generate superior client outcomes and significant profits for your practice.

Improved Delivery System
You can treat lesions at any angle and CryoLab's illuminated wand ensures the treatment area is visible.

Pre-Set Protocols
Focus on the treatment site not treatment time, 2 simple push-and-go treatment times ensure you will not over or under treat target area.

Real-Time Gas Level Indicator
Our visual gas level indicator is a breakthrough – know when to re-order and never run out of gas.

Refillable Cylinders
Reusable cylinders are good for the environment and will deliver over 800 treatments. Cylinder exchange is easy, and installation takes less than 1 minute.
The Most Advanced Cryo Facial Unit Ever Designed